"Japanese study useful for everyday life"
Luciane Yuri Sato (Sao Paulo, Brazil)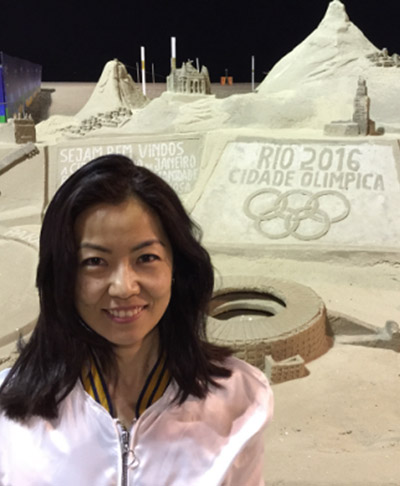 Her father is Japanese and her mother, Luciane, is a Brazilian with Japanese ancestry. She says she started going to a Japanese language school when she was small, so that she could communicate with her Japanese relatives. At the moment she is studying on a JF Course at the Japanese Cultural Centre in Sao Paulo.
-What is your impression of using Marugoto to study Japanese?
Unlike the foreign language education I've had before, an emphasis is placed on the teaching of expressions, grammar and sentence patterns that are useful in everyday life. And it's great that you don't just study Japanese language, but you also study about Japanese culture.
-Do you have a story that illustrates the benefits of studying using Marugoto?
When I joined the JF Course Japan Study Tour* last year, I stayed at a hotel in Kyoto. After checking out the next day, I noticed that I'd forgotten my bag in the cupboard in the room. I thought what to do, and phoned the hotel. I used the expressions and sentence patterns I'd learnt in the Marugoto Intermediate 1 textbook (the topic of hot springs), and spoke on the phone to the person in charge.They said they would post the bag, and it arrived safely the next day.Through this experience I got a real sense of the kindness and hospitality of Japanese people.
-What would you like to do using Japanese in the future?
I'd like to do a job where I use Japanese. I'd like to learn more about Japanese culture too.
* a training programme where students who achieved excellent grades taking JF Courses are invited to Japan with the objective of deepening their understanding of Japanese language, culture and society through lectures and study tours.