"I learned how to express myself in Japanese"
Andres Ibanez (Madrid, Spain)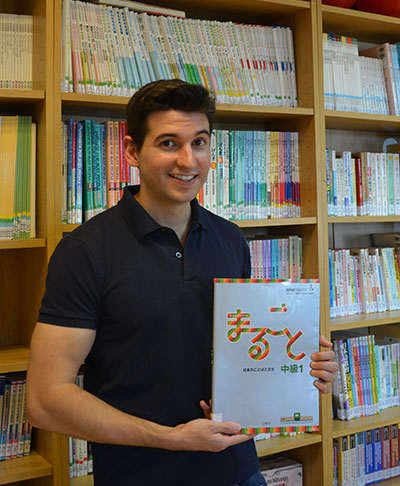 Attracted by the appearance and rhythm of the Japanese language, Andres started studying Japanese on his own. He tells us that he likes kanji very much, and used to use it while taking notes in class at high school.
He has been studying with Marugoto since JF Language Course in Madrid has been launched.
-What is your impression of studying Japanese with Marugoto?
In my opinion, Marugoto is one of the best learning systems available, and really teaches you how to communicate. It gives you real skills, and it has a wonderful progression from very basic patterns and sentences to more complex ones. I really like how the topics change frequently and how they are relevant to the grammar and vocabulary. My impression is that I now feel confident when I speak in Japanese, and can not only understand the Japanese around me, but can also communicate more easily. Many students that used other systems cannot speak or write, even if they are really proficient at reading or listening.
-What do you think are the advantages of Marugoto?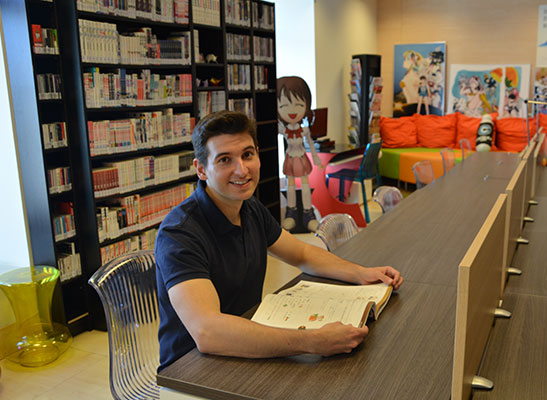 First of all, it is fun and easy to follow. From day 1 you learn practical and useful sentences, and this foundation is built on until you have a solid knowledge of the language. I would say that Marugoto can teach you how to speak real day-to-day Japanese faster than any other book. With Marugoto we not only learnt how to understand what we listen to or read, but also how to express ourselves in Japanese.
-Please let us know what you would like to do in the future using Japanese, if you  have such a plan.
In the future I would like to work using Japanese. Also, there are many books and movies that would be interesting to be able to enjoy in their original language. I plan to keep studying kanji until I can pass the Kanken(The Japan Kanji Aptitude Test) level 2. I want to make more Japanese friends as well.
"Marugoto focuses on delivering the message rather than grammatical perfection"
Jose Lema (Madrid, Spain)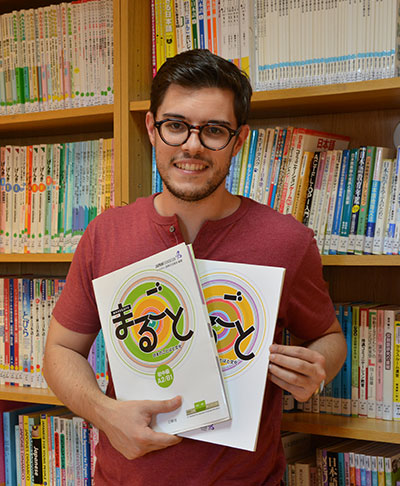 While in college, Jose made friends with a Japanese exchange student and was invited to Japan for the first time. The experience made him start studying Japanese so as to learn more about Japan and its customs. While working as a lawyer, he still continues to study Japanese.
-What do you think are the advantages of Marugoto?
I think Marugoto takes a very practical approach to Japanese, focusing on everyday situations, and learning vocabulary and grammar through those situations. This means that it is very useful for being able to navigate common situations such as shopping, meeting friends or asking for directions.
The grammar and the vocabulary are very well chosen for the particular situation that Marugoto is trying to provide guidance for in a specific chapter. In addition, the exercises make you think of new situations where you can apply what you have learned, while constantly bringing up topics and concepts from previous lessons.
I think the most important advantage of Marugoto is how it attempts to avoid excessively abstract or theoretical explanations, and jumps right into the practical situations, which not only helps understanding the topic that is being dealt with, but also encourages students to start using Japanese as soon as possible, focusing on getting the message through rather than on grammatical perfection.
-Please let us know if you have any stories that demonstrate the results of your study with Marugoto.
When I visited Japan in the summer of 2016, I got lost many times on Tokyo's subway system or in Osaka's Dotonbori. However, I was never too worried since I knew that I could easily ask for directions and help with what I had learned in Marugoto. One day, I missed the last train back to the area where I was staying and had to ask the train station staff for alternative ways to get there. It was not easy, but I finally understood that there were other trains that would take me to areas that were close to my own. After I got to the closest area, I took a taxi and explained to the taxi driver how to get to my accommodation. It was difficult, but what I had learned in Marugoto gave me enough tools to be confident I would not get lost!
-Please let us know what you would like to do in the future using Japanese, if you have such a plan.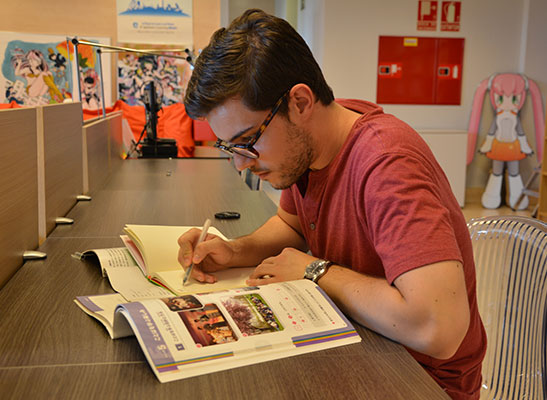 Since I practice as a lawyer in Spain, there is little to no chance for me to use the Japanese I have learned in a professional context. However, ideally, I would like to help Japanese customers in Spain with whatever legal problems they may have by speaking Japanese.
Apart from professional goals, I will of course use Japanese to keep in touch with my Japanese friends and Japanese students around the world, as well as to deepen my knowledge of the country and its customs.