"I enjoyed studying from Starter to Intermediate 2 level"
Bermet Sarymzakova(Bishkek, Kyrgyz Republic)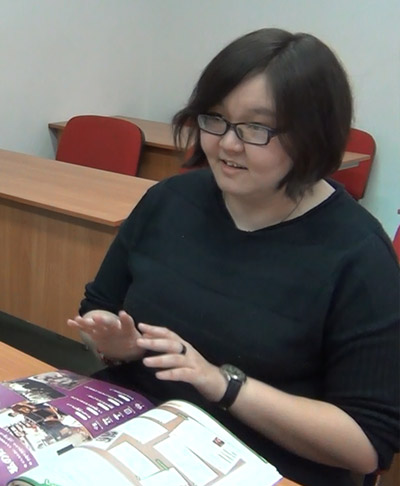 Bermet loves Japanese TV games, music, anime and things like that, and would one day like to be able to speak Japanese like the voice actors in TV games or anime. While working as a scientific researcher, she started studying Japanese as a hobby in 2014. She started studying Japanese on a JF Course at the Kyrgyz Republic Japan Center for Human Development using Marugoto Starter 3 years ago, and has already finished studying up to Marugoto Intermediate 2. She even answered this interview in Japanese.
-How was your experience of studying Japanese?
The hardest thing for me was kanji. It was a bit hard for me because I don't have great powers of concentration. But there are lots of opportunities to listen to real-life Japanese in Marugoto, and I feel like I'm gradually getting used to Japanese.
-What is your impression of studying Japanese with Marugoto?
I loved the Lifestyle and Culture section in Marugoto Starter. People's lifestyles are a little different to our lifestyle, and I was able to learn a lot about Japanese culture.
When I reached Marugoto Intermediate, it became a little hard compared to the levels that came before. But it was great that music was one of the topics because I love music. Other textbooks include the theme of music, but they often feature old music. It is refreshing that Marugoto Intermediate features current Japanese groups. I searched on the internet for and actually listened to songs by Kobukuro and BEGIN, and other groups that appeared in the textbook, and I think the singers have got really nice sweet voices. I am interested in becoming a voice actor, so the fact that there are pronunciation sections is useful as well. My native language is Russian, and the pronunciation is completely different. If I practise using the pronunciation sections, I think I will become good at speaking.
-Please let us know if you have any stories that demonstrate the effectiveness of your study with Marugoto?
I had a chance to take part in some training in Japan, and I was able to understand the announcements in the airport and speak to the airport staff in Japanese. And I came across a variety of topics and situations that appeared in Marugoto, like Japanese Food, so the things I studied in Marugoto were really useful in Japan.
In Marugoto Pre-Intermediate there is the topic of Visits, and I studied all about etiquette when you visit a Japanese home, so when I actually went to do a homestay in Japan, the Japanese family was really surprised that I knew so much about Japan. I also often used the strategies for speaking and reading I studied in Marugoto.
Even after returning to the Kyrgyz Republic, thanks to Marugoto, I often chat to friends in Japanese on Line, and even send tweets on Twitter. I follow my favourite Japanese voice actors and anime on Twitter, and can mostly understand what they write.
-Please let us know what you would like to do in the future using Japanese, if you have such a plan.
I would love to travel all over Japan while using Japanese. I want to go to events and concerts featuring Japanese voice actors and hear them with my own ears.