"Grammar study not through explaining things but through encouraging you to notice things first"
Andrea Paola Posso Contreras (Cali, Columbia)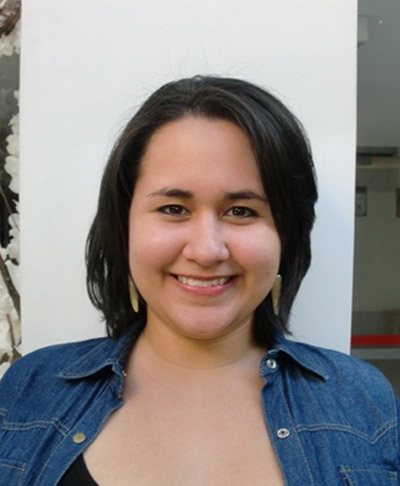 Andrea studies Japanese at the Japanese Language School Japanese Language Centre Koen, affiliated with the Nikkei Association in Colombia. She has watched anime and listened to anime songs since she was a child, and gradually learnt Japanese naturally, and through studying at Koen she has been able to reconstruct her knowledge of Japanese gained so far.
-What is your impression of using Marugoto to study Japanese?
In Marugoto Japanese grammar can be studied systematically and in an easily understandable way, especially for people who have just started studying Japanese. And you can gradually train yourself to read kanji without furigana, so it motivates you to read a lot and look up words in the dictionary, which also gives you the confidence to take part in conversations. The audio materials were also very useful for getting used to the pronunciation and speed of ordinary Japanese.
-What do you like about Marugoto?
First of all, the method of actually trying to use words and noticing how they are used, rather than receiving grammar explanations, is very good. Personally I think it would be better to spend a little more time on reading. This is because I think reading out loud is useful for quickly learning better pronunciation.
When I took part in a speech contest two years in a row in 2016, I was able to quickly and accurately write the script for my speech. But in my head, I thought in Japanese first, and in Spanish after that. That was very interesting because I think it's normally the opposite. And when I was giving my speeches during the speech contests, I was able to say each word with confidence thanks to the coversations I practised in Marugoto.
-What would you like to do using Japanese in the future?
If I can, in the near future I'd like to go to Japan with my family and friends. I'm a graphic designer and in the future I'd like to be an advertising planner. Since I was young, I've longed to know more about the country that's had such a big influence on my life, and I'd like to tell everyone what I learn from Japanese culture, history, and people.
I don't exactly know in what way I can do it yet, but for me Japanese is very important for both my life and my career, so I'd like to let others know the importance of the things I learned through Japanese and foreign language study.