"I really enjoy the layout of the material in the textbook"
Janine Lutchman (Port of Spain, Trinidad and Tobago)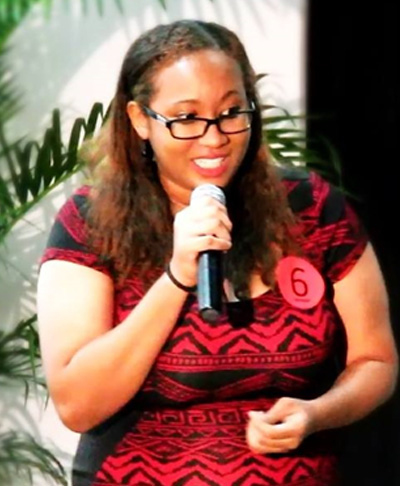 -Why did you start studying Japanese?
First, I love studying foreign languages. I have learnt French in high school and then Spanish, Portuguese and Chinese in university. I became interested in studying Japanese because of my interest in Japanese anime, video games and pop music. I used to watch many Japanese cartoons as a child, namely Pokémon, and I always wanted to learn more about the language. I would like to someday be able to listen to Japanese songs and understand all of the lyrics, watch an anime or a cut-scene in a video game without subtitles. I also chose to study Japanese at this point in my life because I would like a new challenge, having already studied Chinese!
-How long have you been studying Japanese? Where do you study Japanese?
I started formal classes in September 2018 at the Centre for Language Learning, The University of the West Indies, St. Augustine campus.
-What is your impression of studying Japanese with Marugoto?
I love the functional approach presented in Marugoto. Its heavy focus on communicative tasks makes me more confident to speak and they give me the opportunity to use Japanese in daily situations. Moreover, as a visual learner, I like the colour scheme used in the textbook. The colours and images are very bright and eye-catching, so they immediately grab my attention, making it easier for me to use the book outside of class for self-study.
-What do you think are the advantages of Marugoto?
From a teacher's perspective, I really enjoy the layout of the material in the Marugoto textbook. The Marugoto series presents the learning material in a very digestible format (i.e. short focus sections) so that students can easily acquire the language and use it in specific contexts. I absolutely enjoy the "Can do" exercises because it allows students to apply what they have learnt in real situations. The free online platform (marugoto.org/en) is also a great tool to complement a student's learning of Japanese. Based on the textbooks that I have used before to study foreign languages, none has offered the access to online resources similar to Marugoto. It is a feature that makes the series stand out among the rest.
-Please let us know if you have any episode that could demonstrate the result of your study with Marugoto.
After studying the food items in Chapter 3, I was able to read and recognize some items from a menu I took from a Japanese restaurant in China. I felt very happy and excited and it makes me want to work even harder and continue my Japanese studies.
-What phrases in Japanese do you like best? And Why?
In my opinion, Japanese has interesting and very expressive phrases. I like "yatta!" because of the positive emotion you can put behind the word. However, my absolute favourite is "kawaii" because I like very cute things.
-Please let us know what you would like to do in the future using Japanese, if you have such a plan.
In the future, I would like to visit Japan to practice using Japanese in a natural environment. I also have been thinking of participating in the JET programme because I personally would like an insight into the education system in Japan. Furthermore, I think if I achieve a great degree of fluency in the language, I would also like to entertain the possibility of teaching Japanese in my home country.