"I like the way focuses on conversation"
Marco Reyes (Mexico City, Mexico)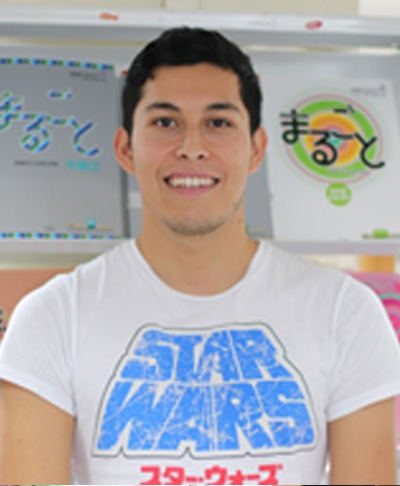 -Why did you start studying Japanese?
When I was child, I watched anime a lot. I started learning Japanese because I really love the pronunciation. Also, knowing about Japanese culture made me more interested Japanese language.
-How long have you been studying Japanese? Where do you study Japanese?
I started learning Japanese language about seven years ago at the foreign language class at university, even though my major was in industrial management.
I took a two year-break from learning Japanese but re-started again about five years ago. I've been attending Japanese classes at the Japan foundation in Mexico for two years and half now.
-What is your impression of studying Japanese with Marugoto?
I've studied a lot of grammar and vocabulary in other courses which I've participated in but there wasn't enough conversation practice or activities. However, Marugoto textbook has so much listening and speaking exercises and I love it! Marugoto textbook is also user friendly because it's easy to understand. I can tell that my Japanese has improved more and more since I joined the Marugoto course.
-What do you think are the advantages of Marugoto?
I like the way Marugoto focuses on conversation. Another bonus is that the teachers are Japanese so you can practice the conversation and learn a lot about the culture as well.
-Please let us know if you have any stories that demonstrate the effectiveness of your study with Marugoto.
I had a chance to use Japanese when I went to Japan for my holiday. I spoke Japanese a lot when ordering food, asking for the bill in restaurants and asking strangers the direction. There was also a chance to speak Japanese in Mexico City. One evening I went to the night club and met a Japanese guy. We had a chat in Japanese and he told me that my Japanese was really good at the end. I was so happy about it.
-What phrases in Japanese do you like best and why?
I like the phrases used in daily conversation, such as "Shooganaiya" (It can't be helped) or "Kamben suru" (Give me a break). I think those phrases are very convenient.
-Please let us know what you would like to do in the future using Japanese, if you have such a plan.
I want to take a Master course in Japan. Also I'm preparing to found a Japanese language and culture class at the library near my parents' house. I want to tell my Mexicans that there are different perspectives and ways to look at the world through learning Japanese.